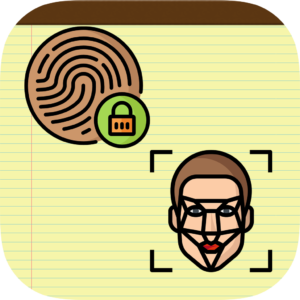 Do you have trouble remembering all your passwords and private information? Do you have trouble securing your private notes? Do you use the same password for every site? Do you want to protect your private files? If so, you need to download Biometric Notes.
Biometric Notes is available with a secured fingerprint – Face ID,it keeps your most valuable, passwords, pin codes, logins, credit card numbers, bank accounts and secret notes away from strangers and hackers eyes.
With Biometric Notes you are only able to access your own information and secured data.
The App is a universal App it works on all devices with fingerprint Touch ID or Face ID capability. (Older devices will still work & the App realizes automatically that there is no Touch ID integrated)
APP FEATURES:
• Create unlimited number of notes
• Touch ID included
• Face ID included
• Make and organize lists
• Support for Emoji Emoticons
• Full Retina display
• Enable & Disable Fingerprint – Face ID
• Lecture notes, business notes and secret notes
• Secured personal diary on your iPhone/iPad
• Safely store and manage unlimited secret collections
• No Ads
• No other fees
• Highest security guaranteed
• Works offline
How to use the App?
After launching the App for the first time. You are now in the setting page. Enable Touch ID – Face ID in the app. If your device is Touch ID – Face ID compatible then you can access the app with your touch ID. If not then the Touch ID button will be disabled. Press the home button, then enter the app and your notes are all secured.
Enjoy Biometric Notes.